Randall Reed is the Ford Whisperer. With over 30 years of award-winning experience as a Ford dealer, he has the unique ability to understand the characteristics and strengths of Ford cars, trucks and SUVs. Being able to tune into each vehicle, he can then pair them to the right owner to meet the driver's needs.
Randall Reed's special talent has translated into a historic Ford first. The Ford Whisperer is the first independent dealer to win Ford's top honor, the Triple Crown, at every Randall Reed Ford dealership in the same year. Park Cities Ford, Prestige Ford, Planet Ford in Spring and Planet Ford in Humble have all received this highly coveted honor. This award recognizes Top 100 Volume, Top CSI President's Award Winner, Top ESP and value for the consumer dollar. Only a small percentage of dealerships nationwide win the Ford Triple Crown out of thousands of Ford dealers.
The dealership group is family owned by the Reed family who believes in treating customers like one of their own. The Ford Whisperer has a simple philosophy for success: hard work, honesty, treat people fairly and always pair the right vehicle to the right driver.
Test Of Time
Over 30 years ago, Randall Reed founded his family-owned dealerships. When you buy from the Ford Whisperer, you can rest assured, you will have a trusted team to assist you with all of your automotive needs long after the sale.
Award-Winning: Savings, Selection, Service
Savings:

The Ford Whisperer buys in volume and passes the savings to our customers.

Selection:

Randall Reed's locations offers thousands of new, certified pre-owned and used vehicles. The Ford Whisperer can locate any desired make or model to fit the right vehicle to the driver and his or her needs.

Service:

Randall Reed and the entire team take pride in providing award-winning customer service. Complete satisfaction is always the No. 1 priority.
Going Above & Beyond
The Ford Whisperer has created more than just another group of dealerships. Randall Reed has worked hard to create an auto entertainment environment where customers can be matched with their dream car, truck or SUV. His goal is to go beyond just selling or servicing a car; the Ford Whisperer wants customers and their vehicles to have the best experience during every visit. When you visit a Randall Reed dealership, you can enjoy complimentary Wi-Fi, a beverage bar, comfortable lounges, big-screen TVs and more!
One-Stop Shop
Time is a precious commodity. So, the Ford Whisperer has created a one-stop shop for all of your auto needs. Each location offers sales, service, parts, accessories, on-site rentals and collision services. Plus, there is a nearby Quick Lane Tire and Auto Center, which repairs all makes and models to get you back on the road… quick! Sign Of Trust
Every Randall Reed dealership is accredited with the Better Business Bureau. The Ford Whisperer stands behind the sign you have come to know and trust, and he strives to make sure you are completely satisfied with your new vehicle, part or service provided.
We Love Our Jobs & Shows
The Reed family of dealerships was named in Automotive News Best Dealerships To Work For list. The list touts the top-100 dealerships that provide a quality workplace, excel at treating their employees well and have top scores in satisfaction.
Caring For Community
The Reed family and our family of dealerships believe it is key to give back to our communities. Each location sponsors and participates in local events, school fundraisers and supports a variety of programs for children and families. "When we all give a little, we can help a lot!"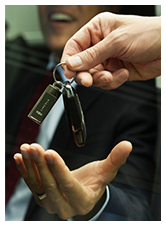 Peace Of Mind
When you are paired to your new Ford from the Ford Whisperer, peace of mind comes standard. Randall Reed's dealerships offer a multitude of protection and maintenance options, whether you're buying new or pre-owned.